I got some new pics from a coworker today of the party. I thought they were funny so I would share.
First Moxie, the party princess!
These pics are for mature audiences only, no puppy eyes, please.
This is Rio Bravo, AKA, Chester the Molester, having his way with every Big male dog that would stand still long enough.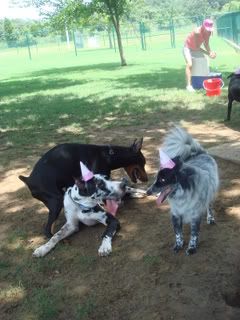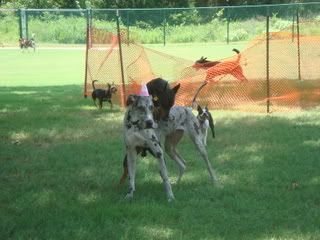 His poor Mom spent the whole time hauling him off other dogs. She really needs to get him neutered.
Some of my friends from the UK and I were having a discussion recently about cropped ears. Here is a Dane with cropped ears, and one with natural ears. Also, the dobe in the above picture has cropped ears. In defense of the owners of both of those dogs, they were cropped before the current owner adopted them.
We didn't have training class tonight. I showed up, but no one else did. I'm sure I missed something, somewhere. I didn't go to the therapy visit this morning either because I was lazy. Moxie went to work with me, but she got stepped on twice and dropped once. So it wasn't a good day for Moxie. :(