Well since two months have passed since I last updated....I guess I'll never get the hang of regular updates. Anyway, moving on.
Moxie
As you can see I've been mistreating her. ;) She is doing pretty well. She had her three month checkup yesterday. Her eye are doing well, no glaucoma, but her cataracts are continuing to progress. Her kidney values are holding at the same levels so no worsening of her kidney disease. However, she did have some elevated liver enzymes on this round of labs that are of concern. Despite a diet change, pumpkin and probiotics, Moxie is still plagued by periodic bouts of diarrhea that we are still trying to get to the bottom of. Abdominal xrays are next.
Speaking of xrays. We got digital radiology at work. Its been playing up more than its been working, so we were testing it out the other night and took some pics of Moxie's leg, the one she broke four years ago.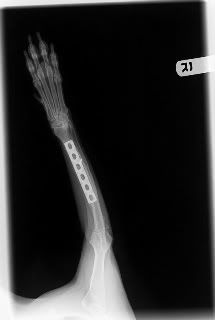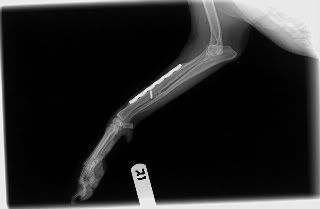 You can see the plate and part of a broken screw still left after her surgical repair. What is less obvious is the way the radius and ulna are bowing outward, and the bone walls are very thin. All of this leaves her succeptable to future fractures. We sent these rads off to the specialist for a second opinion. He said there really isn't anything that can be done surgically to repair or prevent fracture. So this means she is now completely retired from agility and rough play. We had our therapy visit tonight where we usually do agility and she was perfectly content to just reap the attention of everyone there.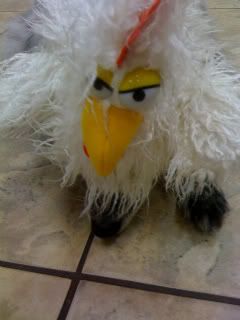 Oh the humanity!
Everyone else is fine. I'll leave you with some new pics of Sully and Kobie.