Moxie has had her suspicions. First, the strange red hairs on my clothes, then, the strange collar in my car, and finally, the distinctive "canine" smells on my hands. Well her fears have been confirmed. I have been seeing another dog.
This is Bosley and he's stolen my heart.
He's actually my bosses dog. I pet sit for them when they are away. They want to get Bosley into pet therapy so I've been working with him. He's great in the house but needs some work outside, so I've been taking him for long walks with Moxie and practicing our basic commands. He's getting much better. He's such a sweetheart though. He will sure bring a ray of sunshine into the lives of people in need. Just look at this smile.
He's at the top of my dognapping list for sure.
Today Moxie and I went to "Bark in the Park" a community event to benefit the Hickory Creek Animal Shelter. My therapy dog group trains on saturdays in the front room at that shelter. The town has been very generous to donate the use of that space. They are raising money to build a new shelter, which is desperately needed, unfortunatly. Don't you wish there was no need for animal shelters at all? In a perfect world....every dog and cat would have a loving wonderful home.
This past week was the week of terrible pet owners at work. Some of the people I worked with don't deserve to have pets. I cry for those poor animals. Suffering at the hands of willfully ignorant, lazy and heartless owners. Sometimes I just don't have the stomach for my job.
After Bark in the Park, Moxie and I went to visit our friends, Kathy and Jally. I visited with Kathy, and Moxie visited with Jally. We all had a lovely time. After that we went over and took Bosley with us on a nice walk. Moxie spied something strange in their backyard. She couldn't quite figure what it was.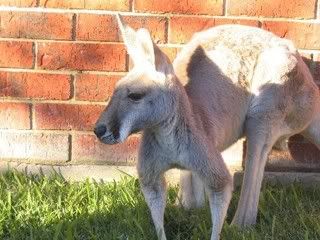 After a short game of "chase the giant hopping rat" We played a game of "leave the kangaroo" that wasn't nearly as much fun according to Moxie. Bosley just ignores it. After all he lives with a lemur. He's already seen it all.
I'll leave the keeping wild animals as pets rant for another post. Suffice it to say, I don't agree with the practice.
But keeping Golden Retrievers as pets is perfectly acceptable!