Hazelnut is improving hourly. She is home with me tonight for feedings. Her eyesight is returning gradually, and she is more alert today and able to stand a walk a few steps. She will get better, there is just no other option.
Here she is tonight. Does someone look like her mama or what?
Here is Mocha mommy and brother Tyler for comparison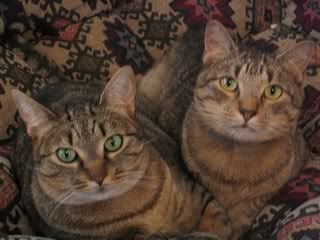 Hazel looks like an old cat after her ordeal. Very sunken and unkept. I can't wait until she returns to her former glory. She was quite a stunning cat before all of this.
All your thoughts and prayers are helping! Keep it up!