Thought I would share some pics of the gang at work.
Parker opens a special delivery "Mox Box"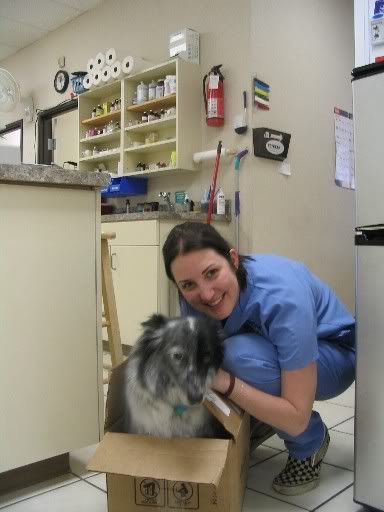 The girls in reception get down with Moxie
The staff works together on a kangaroo with a tail abscess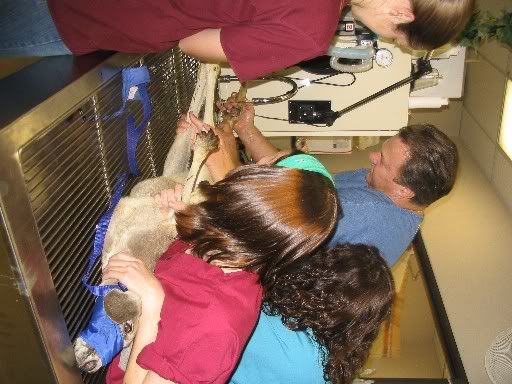 I got the best part, holding the Joey!
Doctor J busts a move in treatment. Its a very fun place to work!
Its been a busy day off for me. After the photoshoot at the clinic, Moxie and I went to the dog park and played for a while. Then we went and toured the doggy day care facility. Its very nice and I affordable. I think I will start bringing Moxie in once a week or so, and I will use them when I get my puppy. After that we went to Petco and bought cat food and litter. Back at home I did some light cleaning then sat down to sort out my photos from today. Moxie and I have agility tonight at 7 after which I will hopefully, finish cleaning the house.
Maybe I'll get some good pics tonight at class.
UPDATE: Class went really well. We got about 30 minutes of practice in before class so she was just tired enough for me to keep up with her on the courses. Our last run was clean and fast. I am very pleased with her progress. I am going to give Moxie a previcox tonight though, as a preventative. She did an awful lot of running today.
Tonight at class, one lady had this whisper quiet clicker. I borrowed it and used it with Moxie and she didn't react (negatively) like she always does with clickers. I'm so excited! I think I am going to order a few of these and retrain Moxie to the clicker now. I never could use one before because she hated the sound. I'm at a point in training her that I need to be more discerning about marking her behaviors and I need to use fewer treats. I think using the clicker now will really take us to the next level. So, off to order a Karen Pryor clicker.