Welcome to the very first edition of Moxie Reviews! Each week Moxie will review a new doggy product.
This week, Moxie reviews the Holey Roller Ball.
This ball came highly recommended by the fine folks over at
Ruffdogs
. I picked one up today at Petsmart for $8.89. A little pricey for a ball, but I was willing to give it a go.
Strait out of the bag moxie had little interest. It wasn't fuzzy, it wasn't a tennis ball, and it didn't squeak. A quick toss, however, and she changed her tune. The minute she picked up the ball she went puppy on me, dashing about the room, tossing the ball up in the air and catching it again and chewing and shaking the ball. An immediate Hit! The ball is lightweight and soft so it scores point for safe indoor play. The cagey build collapses in on itself and springs back into shape when released. It also holds up to moderate tugging and chewing.
During our outing today we also picked up a wading pool at Wal Mart on sale. I set it up and we headed outdoors for some more product analysis. The Holey Roller ball scores bonus points as a cool submersible toy, easy to find and grasp under water. Moxie dove for her new ball over and over again. This is actually the first time Moxie has willingly put her face under water repeatedly. Our 9 year old neighbor jointed in the fun and spent about 45 minutes playing with Moxie and the ball. The ball is easy to throw and its cage design means little fingers stay clear of border collie teeth. The ball is easy to toss, fun to tug and holds up well to long periods of rough play. The holey roller does roll, but does not bounce, so it loses a few points for lack of chase appeal.
Over all the Holey Roller ball gets four paws up from Moxie, one satisfied customer.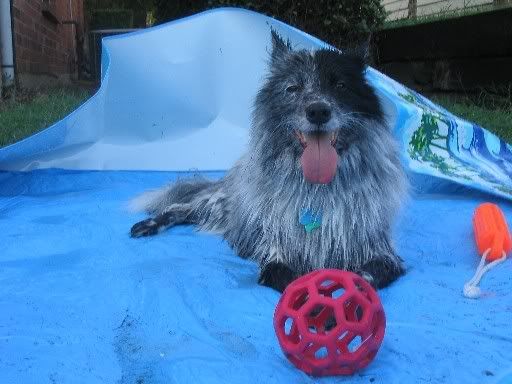 Though its not really a doggy product, the wading pool purchased from Wal-mart and pictured above gets two paws down and a whine for an overall flimsy design that doesn't stand up to the rigorous play of a border collie or a nine year old boy.
In conclusion
Holey Roller Ball - Worth the price
Wal Mart wading pool - Waste of money
Nine year old boy with ADHD - Priceless!
_ _ _ _ _ _ _ _ _ _ _ _ _ _ _ _ _ _ _ _ _ _ _ _ _ _ _ _ _ _ _ _ _ _ _ _ _
The kitten that would not be named has officially called "Sully". I finally made the decision by purchasing two kitten collars and two tags, one engraved "Sully", the other engraved "Sushi". I put the tags on the collars then had mom pick the collar she liked, without looking at the tag. She picked the sully collar. I think Mom is a little attached to her grand cats. What do you think?