A brief update, and then we will get to the pictures.
Moxie turned ten years old on July 26th. We celebrated with snacks and play time and cuddles. The past nine years have been tumultuous, but with Moxie by my side, I have come out in a better place. She is my best friend. I will never love another dog like i love Moxie, there will never be another Moxie. I hope I have ten more years to spend with her, but realistically, I know that isn't likely. :(
In an effort to immortalize my precious pup, I asked a friend of mine from the UK to do a clay figurine, a mini moxie if you will. I even sent her some fur clippings which she used to complete the model. Its a piece of Moxie that I will treasure always.
In other news, Moxie has learned to feed herself. For the past three weeks or so I've had moxie on the pumpkin diet (replacing her canned food with canned pumpkin, mixed with her kibble). Thursday morning, I woke up to find a can of her old dog food on the floor of my bedroom. Apparently Moxie was hinting at something. When I didn't take the hint, she took matters into her own paws. When I left for my birthday dinner with the girls at work, she dug a can of food out from under the hutch, brought it into the living room, and proceded to work at it until she opened it, and ate the contents. I have a hard time opening those pop top cans, but she had little trouble apparently. Next thing you know she will be stealing my credit cards and ordering take out when she doesn't approve of my menu. Darn dog is too smart for her own good!
Moxie has had more than one great accomplishment this summer, she (and I by proxy) won our obedience clubs annual obedience award for achieving the top three scores in a row for the year. We submitted our scores from the ASCA trial last August where Moxie got her CD.
A pic of the gorgeous girl with her prize.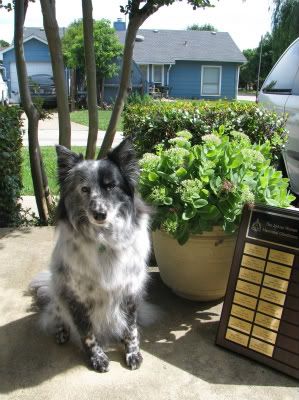 Checking that her name is spelled properly....
And finally the best of that photoshoot I told you about in May. I think I will treasure these pictures always as well. Thanks Jamie!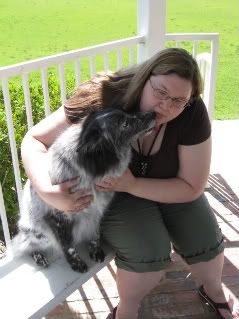 As for the cats, Kobie has decided that eating is a good thing, I hope that lasts. Sully is currently hiding from the big mylar butterfly balloon my friends at work gave me for my bday. Thurston is leaving Kobie alone these days, mostly, in favor of rough housing with Sully. I'll take that!
Next week, I'm off to NYC with Shawnbear for a week. The kids are staying with Mom, with a backup pet sitter in the wings. Something always goes wrong when I leave town. I hope this time will be the exception.